Alopecia hair loss on top of head for Black women can be quite embarrassing. Those afflicted with this medical condition try to hide it from their friends and family. Unfortunately Alopecia is a medical problem that victims have no control over. Instead of trying to sell our readers on fake solutions to treat your hair, we will be honest and blunt and recommend wearing a wig as best course of action.
What Is Alopecia Hair Loss?
Alopecia is a medical problem that is not contagious, and therefore others cannot contract it from us. However, the emotional pain of humiliation, frustration, and embarrassment tied to this condition can be devastating for those suffering from this condition.
What Causes Alopecia Hair Loss?
Genetics play a part in determining if a person develops alopecia.  Approximately 25% of patients have a family history of the disorder.
What Happens When You Are Affected With Alopecia Hair Loss?
In alopecia, the affected hair follicles are mistakenly attacked by a person's own immune system, possibly due to chemicals called cytokines. This results in the stoppage of hair growth and hairs suddenly sheding. For an indefinite period of time, the hair follicles are prevented from producing normal hair growth. Some studies show a link with between Alopecia and stress or trauma.
Societal Challenges For Those Suffering From Alopecia
Hair loss alters the appearance, and so alopecia sufferers are occasionally classed with certain groups. If a person has no hair, or what others consider to be too little hair, and wears it short as I do, observers make fun of them for not having hair.
Finding employment can also be a challenge. In a society that judges so heavily on looks, some employers can wrongly assume that you are going through chemotherapy or suffering from some serious medical condition.
Balding On Top of Head Can Hurt Your Feelings and Emotions
Thoughtless remarks from close friends and family can be devastating. This causes those with Alopecia from leaving the shelter of their homes. Since Alopecia can make a person look very old in comparison to their age, this takes a huge emotional toll.
Are Medical Treatments the Answer?
Medical treatment results varu from person to person. At best for some people, it takes a long time to get results, and often the results you get are not what you hoped for. Your hair may regrow, but it may be very fine-textured. Frustration may come if the balding spots start to show and the treatment that worked one time does not work again. Alopecia may then become a financial as well as an emotional burden for you.
Why Not Wear a Wig?
Most wigs are designed for women who want a change of hairstyle. Wigs designed especially for alopecia sufferers exist though they cost more.
Women have a greater choice of hairstyles to choose from.
Don't Let Your Hair Ruin Your Day Try a Wig
Alopecia sufferers may become reclusive because of the way others may perceive them. For first timers, trying on a wig may be an embarrassing moment. But after you get compliments on your hair from people,  you will regret not trying out the wig much sooner.
Eooma Headband Wig Curly Human Hair Wigs for Black Women 10A 180% Density Brazilian Kinky Curly Natural Human Hair Headband Wigs Scarf No Gel Gluelees Remy Hair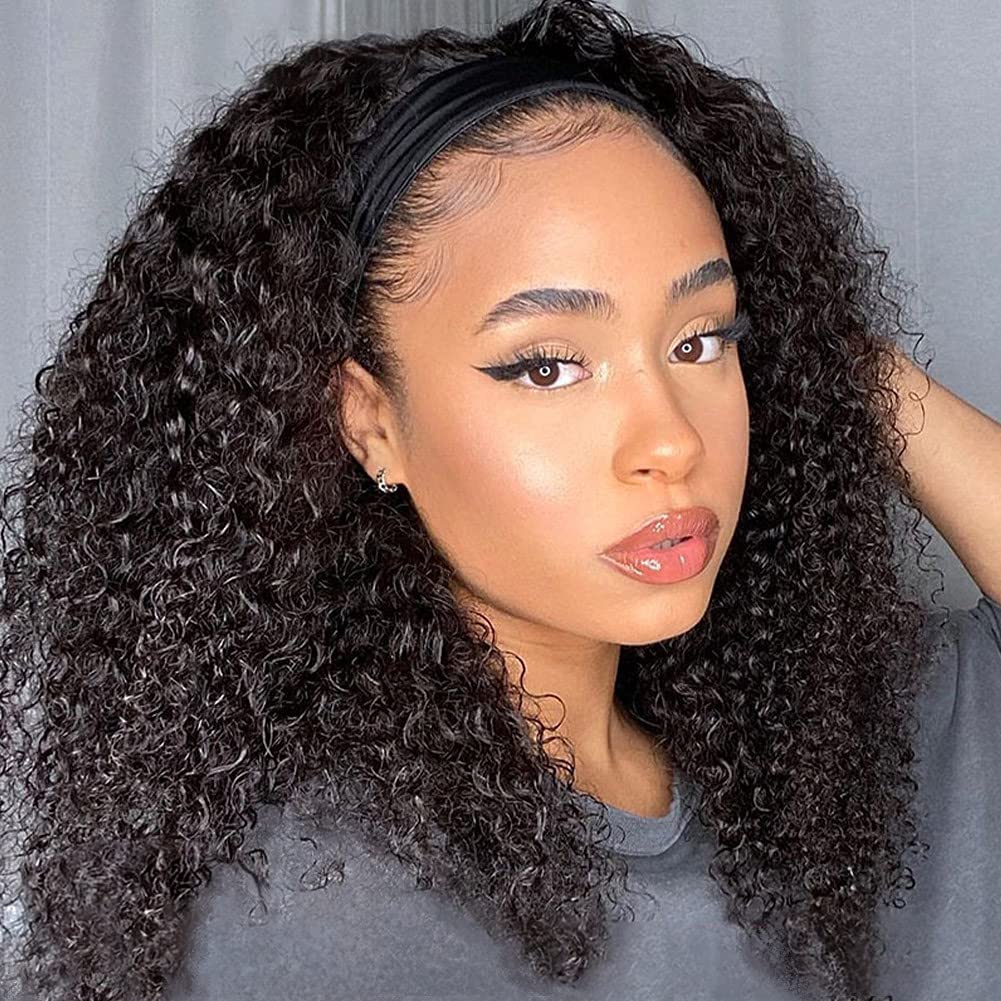 1. Hair Material: Headband Wig Curly Human Hair Wigs for Black Women, 10A 180% Density Brazilian Human Hair Wigs.

2. Hair Quality: Soft Hair, No Tangles No Shedding, No Smell, Clean&Bouncy Hair, Can Be Dyed, Curled and Flat Iron.U Can do Many Different Hairstylewith This Headband Wig.

3. Headband Wig Cap Size: Average Size Cap 22-22.5 Inch, 4 Combs And Adjustable Strap, Velcro In The Back, Easy To Adjust The Cap, Suitable For Most Head Size.

4. Headband Wig Hair Advantages: Glueless Headband Wig Curly Human Hair, It Allows U To Show Your Own Natural Hairline, None Lace Front Wigs, But Velcro Snapping Design Makes It Easy To Wear During Several Minutes And You Can Aslo Make Ponytail Or Hair Bun. Save Time And New Fashion , U Can Wear It In Any Occasions!

5. Package Include: 1 Headband Wig+2 Random Color Headband+1 Pair of 5D Mink Eyelash+2 Stretchy Nylon Wig Caps.
Brinbea 31 inch 13X7" Lace Front Knotless Box Braided Wigs 100% Hand-Braided Box Braided Wigs with Baby Hair for Black Women Japan-made Synthetic Lightweight Twist Braids Wigs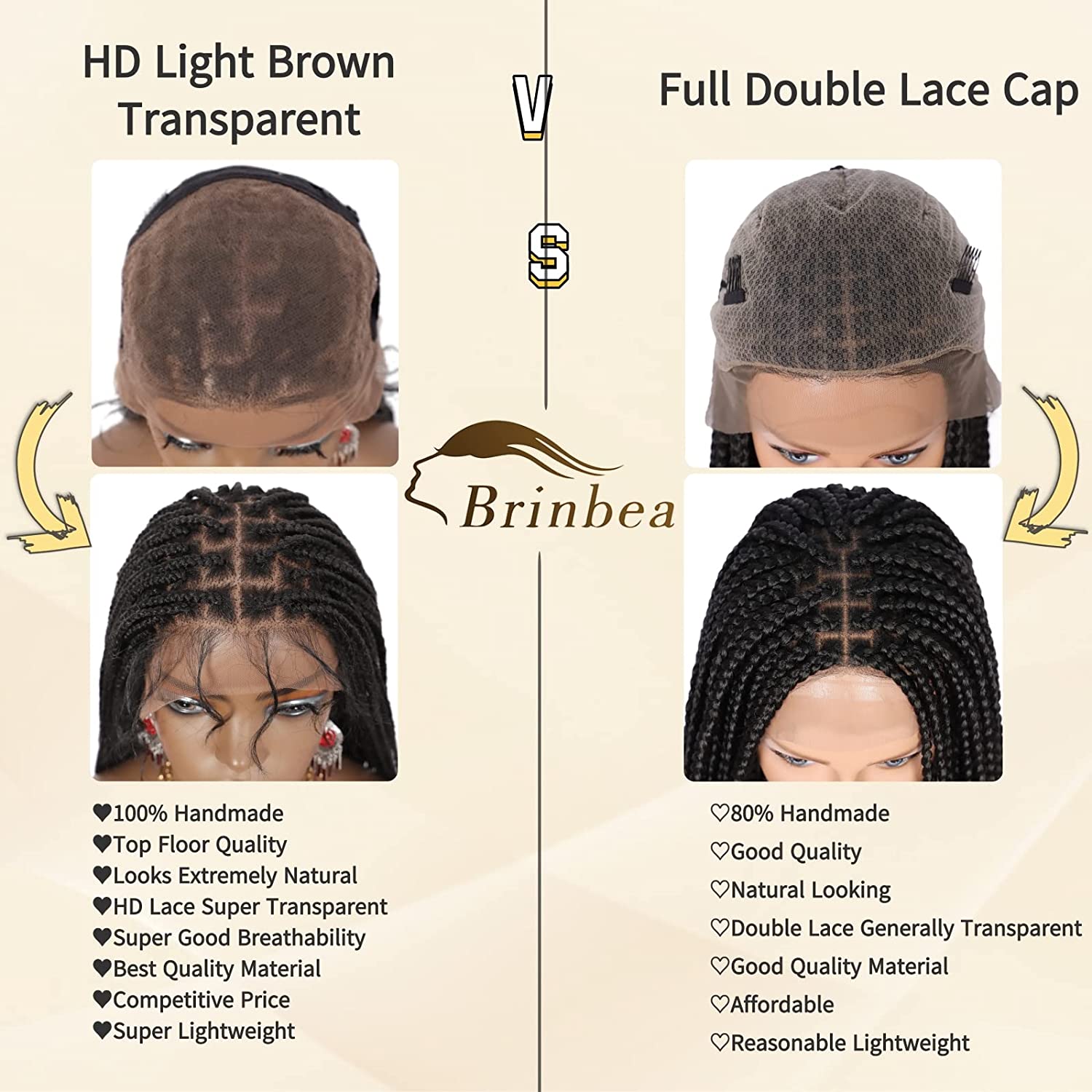 Material: Soft lace&super lightweight best quality japan-made synthetic fibers, natural luster, big volume&full thickness, neatly and tightly done, tangle free,100% handmade, easy-to-style and natural looking side parted pattern top, 13×7 inches large lace area natural parting black braided wigs for dark skin women

100% hand-braided super lightweight knotless lace front braided wigs that gives people an illusion that you spend 5-6 hours to get you hairs braided and just step right out of your salon! Natural edges with baby hair allows for a seamless hairline transition

Type, length, weight and texture: Lace frontal box braids wig collection, approx 31 inches long, 14.9 oz weight, approx 150% density very full and big volume! Super lightweight braiding hair texture. It is just like your own gorgeous natural hair on your best hair day, soft textures with the "just left the salon" Look, body and movement, go ahead and say it's all yours – they'll believe you! Skip your braiding chair and headache and just spend the time with your loved ones

Cap size, Brinbea cap circumference 21.5-22", ear to ear 13.5"-13.75", front to back 14"-14.5" Which fits most head size. Flexible and breathable mesh cap with combs and adjustable straps for a comfortable and secure fit

Dress it up for occasions or casually for every day use. Its a perfect protective style for all hair types.Warm notes: Wash your braid wig in either lukewarm or cold water with a mild shampoo. Never wash wigs in steaming hot water as this can cause the braids to look chapped and because braided wigs are synthetic, washing it with hot water will damage the fibers and your braids will fall out
Disclaimer: The information on this website is not intended or implied to be a substitute for professional medical advice, diagnosis or treatment. All content including text, graphics, images and information contained on or available through this website is for general information purposes only. This website makes no representation and assumes no responsibility for the accuracy of information on or available through this website, and such information is subject to change without notice. You are encouraged to confirm any information obtained from or through this website with other sources, and review all information regarding any medical condition or treatment with your physician.