Best Joggers For Tall Men
CLICK HERE to Check Our Latest JOGGERS FOR TALL MEN!
Finding joggers for tall men can be difficult because many brands do not have a tall section in their stores or online. Joggers are typically baggy and long, so when they are not available in taller sizes, it can be hard to find a good fit. We specialize in large sizes and carry joggers designed specifically for taller body types. Our selection of joggers for tall men are available in a variety of colors and styles. These pants are perfect for any occasion and made from high-quality materials which will keep you cozy all day long. Whether you're hitting the slopes or just lounging around at home, our joggers & sweatpants for tall men will be perfect for your needs.
The Best Joggers For Tall Men & Sweatpants
Hitting the gym when you've got a great pair of joggers or sweatpants that fits well will make you look sharp and make your workouts even better. These joggers are perfect for lounging around at home, or they can easily be dressed up with a nice shirt or a jacket. Sweatpants are perfect for working out in, but they're also just as comfortable for kicking back on the couch when you come back home. Check out some of the best options below.
Click Here To Check Availability
These joggers do not run small and does not shrink after washing which is perfect for tall people. They are rare and  you won't find them easily in other marketplaces. These track sweatpants mens fitted joggers are so well made that make you look as if you are dressed up in expensive suit. Ankle zippers on each side let's you relax your feet if it feels too tight. Elastic waistband stretches perfectly and hugs your waist. Drawstring length is very long compared to other brands. It almost comes down to your knees and they are high quality. Standard pockets on each side let's you keep your wallets, keys or phones. Fabric feels silky and very smooth. Free shipping.
Check Out How These Joggers Look In Real Life
Model in this video is 6'6 225 lbs. wearing a XXL and these joggers fit perfectly.
How to Style Joggers and Sweatpants For a Dressy Look
How to style joggers and sweatpants for a dressy look: whether you're dressing up for a casual day or going out on the town, these pants can add an extra touch of class. For starters, try wearing them with a blazer or button-up shirt; this will give your outfit some structure. You can also dress them up by adding dressy shoes – just be sure that they aren't too flashy, since you don't want to overshadow the pants themselves.
What to Wear with Joggers and Sweatpants When the Weather is Cold
When the weather is cold, there are many ways to style sweatpants. One way is to wear a sweater or hoodie with them and layer it with another jacket or coat. If it is still freezing, layer a long sleeve shirt underneath. You can wear a thermal underwear underneath your joggers to keep warm.
Click Here To Check Availability
Fitted joggers that's not loose or too big. It feels like custom fit. High quality elastic waist band that give you lots of room. Ankle zipper that measures perfectly around your ankles. Extra long drawstring didn't waste a bit in drawstring fabric. It is REALLY LONG. Side, back pockets that will keep your items locked. Wear it over and over again and it still won't lose it's shape. Rasta side stripe pattern that makes this style very unique.
How These Joggers Looks In Real Life
Model in this video is 6'6 225 lbs. wearing a XXL and these joggers fit perfectly.
Mixing Best Joggers For Men and Sweatpants With Print Tops Ideas
Sweatpants are a comfortable and versatile piece of clothing that can be worn in many different ways. One way to wear sweatpants is by mixing prints with them. There are many different print combinations that can be used, but some of the most popular ones include pairing stripes with polka dots or combining florals with plaids. Another great thing about wearing prints with sweatpants is that it gives you the opportunity to show off your personality and style. So, if you're looking for some new ideas on how to mix prints with sweatpants, then check out the following combinations:
The first combination involves pairing black and white stripes with red sweatshorts. The contrast between the colors makes for an eye-catching look.
Second, the key is to keep the colors complementary, so try pairing black with navy or brown with olive green for a look that will stand out from the crowd. If you're feeling daring, go for some bolder color combinations like red with pink or purple with yellow. No matter what print combination you choose, just make sure it makes you feel confident and comfortable!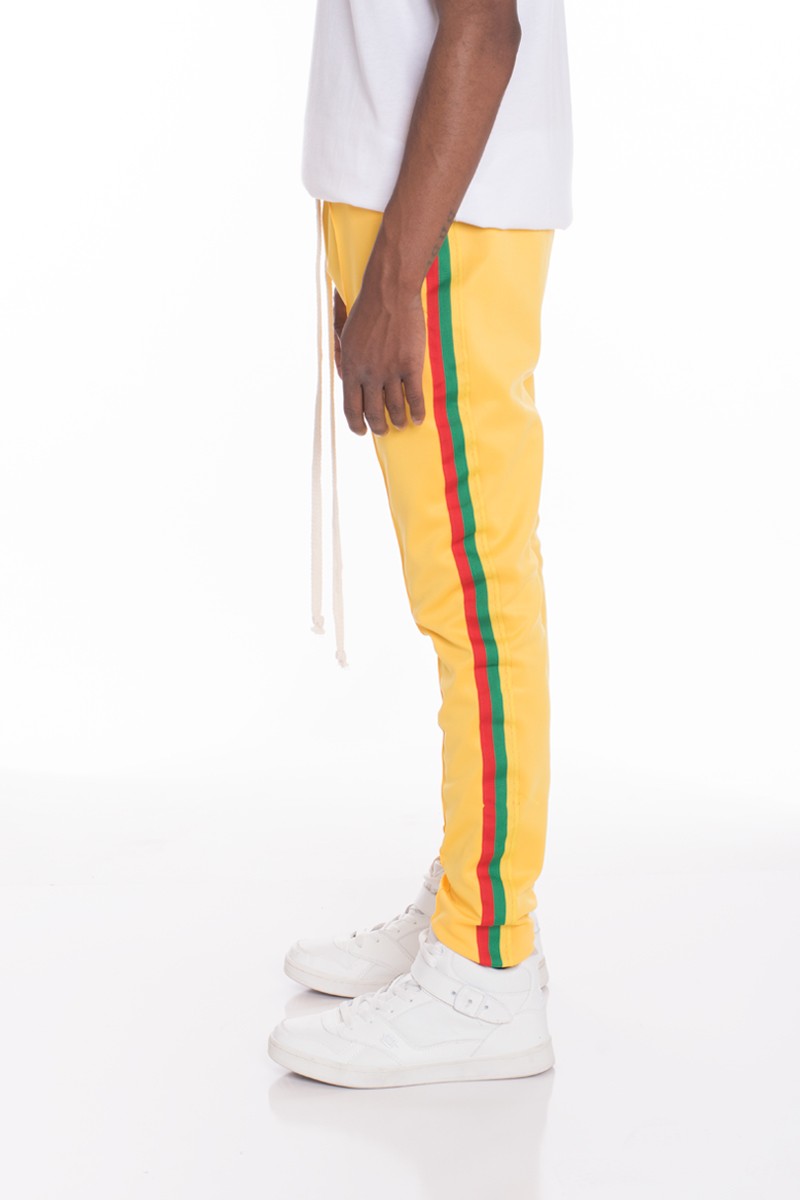 Click Here To Check Availability
Model in this video is 6'6 225 lbs. wearing a XXL and these joggers fit perfectly.  
Different Ways to Fold Your Favorite Pair of Sweats
There are so many ways to fold your favorite pair of sweats, and each way can give them a different look. You can fold them in half length-wise, or thirds width-wise. Or you could crumple them up into a ball and then unfold them. Experiment with different ways to see which one you like best! Folding your sweats in a certain way can also help keep their shape longer.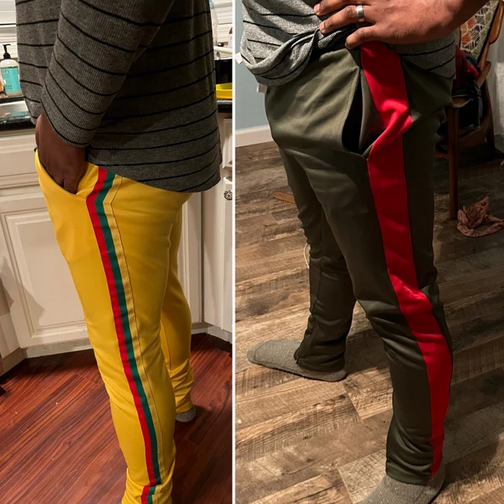 "I'm 5'10", 195 and the large size are great. They're definitely fitted, but that doesn't make them any less comfortable. I was so happy with these stoner men's joggers & sweatpants that I got a 2nd pair. Thanks very much to the shop!" – Ian
View The Entire Joggers For Tall Men Collection by

Clicking Here

Subscribe to Our Blog!