African Outfits
African print outfits for men clothing shopping can be challenging. Best that you can do now is to find them online. African print outfits for men are a great way to show your unique sense of style while keeping cool in the hot weather. The bright colors and bold patterns of African print fabrics make a statement, and there are many different ways to wear them. You can go all out with a full outfit made from traditional African fabric, or add just a touch of print to your existing wardrobe.
There's no wrong way to wear African prints – it's all about expressing yourself! So if you're looking for something new and stylish this summer, why not try an African print outfit?
Styling African Prints Cant Be Tricky
African print outfits for men are becoming more and more popular. It is no secret that African print outfits are gaining popularity all over the world. Celebrities, fashion bloggers and everyday people have been spotted rocking these beautiful prints in various styles.
The great thing about African print clothing is that it can be styled to look masculine or feminine, formal or casual. And there's no wonder why! They add a touch of fun, color, and personality to any outfit. But styling African prints can be tricky. If you're looking for some inspiration on how to style your next outfit with African prints, check out these tips:
1- Start by finding an outfit that fits well. It's important that the outfit is not too tight or too loose, as this will look sloppy. Make sure you have enough room to move around comfortably.
2- Choose colors that complement your skin tone. There are many different colors available in African prints, so take some time to find ones that look good on you. Avoid clashing colors if possible – it's best to stick with neutrals like black, white, charcoal and olive.
3- Start by choosing a color scheme that works well with your complexion and personality. There are many different colors and patterns available in African print fabrics, so take your time selecting something you love!
4- Once you've chosen a color scheme, start piecing together an outfit using complementary colors and patterns.
Most Popular African Outfits For Men
African clothing for men is a unique and interesting style. It has been influenced by many cultures, including traditional African styles, European fashion, and North American trends. While there are many different types of African attire for men, some outfits are more popular than others. Here is a look at the most popular African outfits for men:
The dashiki is one of the most well-known and popular African clothes for men. This shirt-like garment typically features bold prints in bright colors and can be worn both loose or fitted. Dashikis are often made from lightweight materials such as cotton or rayon making them perfect for warm weather climates.
Another popular item of clothing among African males is the kufi cap. A kufi cap is a brimless, cone-shaped hat worn by men in many African countries. Kufis are made of cloth and come in different colors and designs. They are often decorated with beads or embroidery. Kufis can be worn for religious ceremonies, weddings, or other special occasions.
LucMatton Men's African 2 Piece Set Long Sleeve Gold Print Dashiki and Pants Outfit Traditional Suit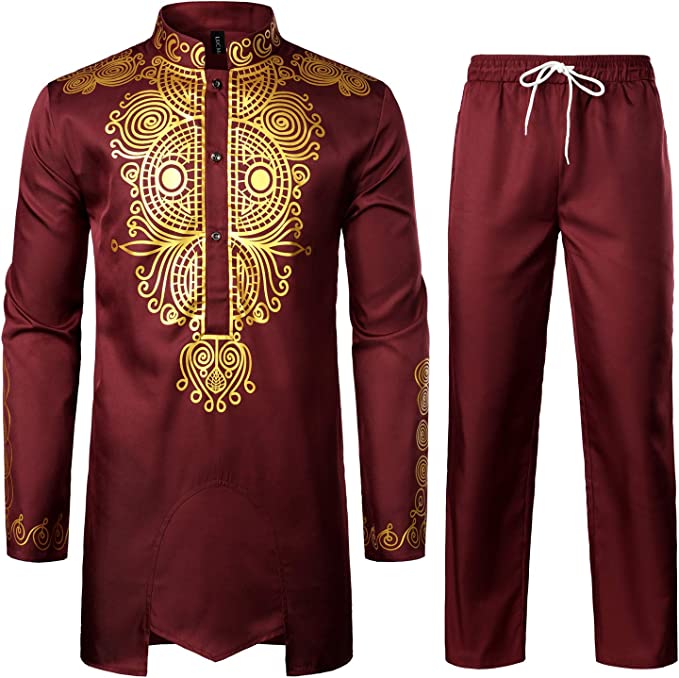 Click Here to Check Price and Availability
LucMatton Men's 2 Piece Outfit Long Sleeve Button up Shirt and Pants Traditional Ethnic Suit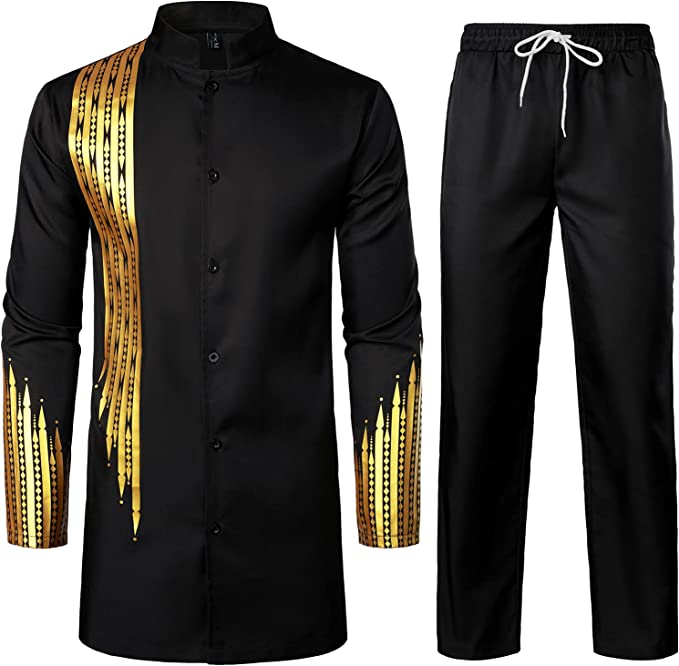 Click Here to Check Price and Availability
LucMaton Men's African 2 Piece Set Long Sleeve Gold Print Dashiki and Pants Outfit Traditional Suit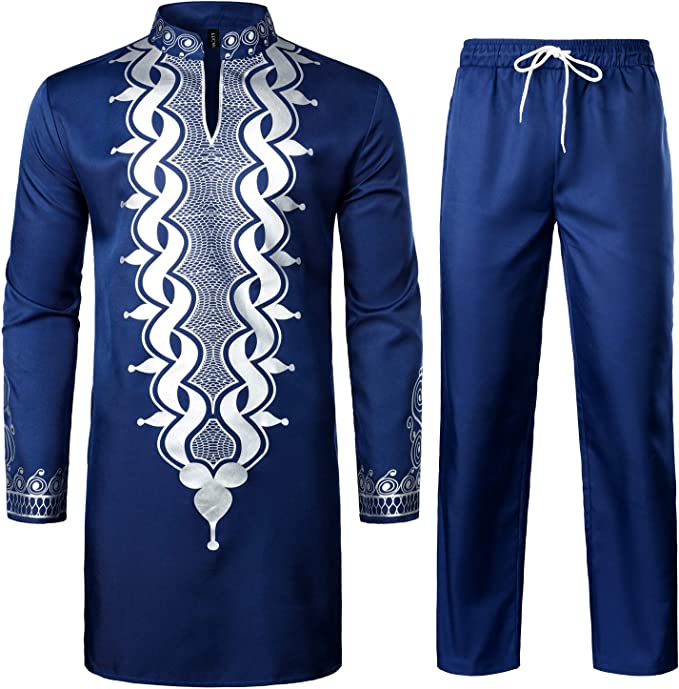 Click Here to Check Price and Availability
LucMatton Men's African 2 Piece Set Long Sleeve Gold Print Dashiki and Pants Outfit Traditional Suit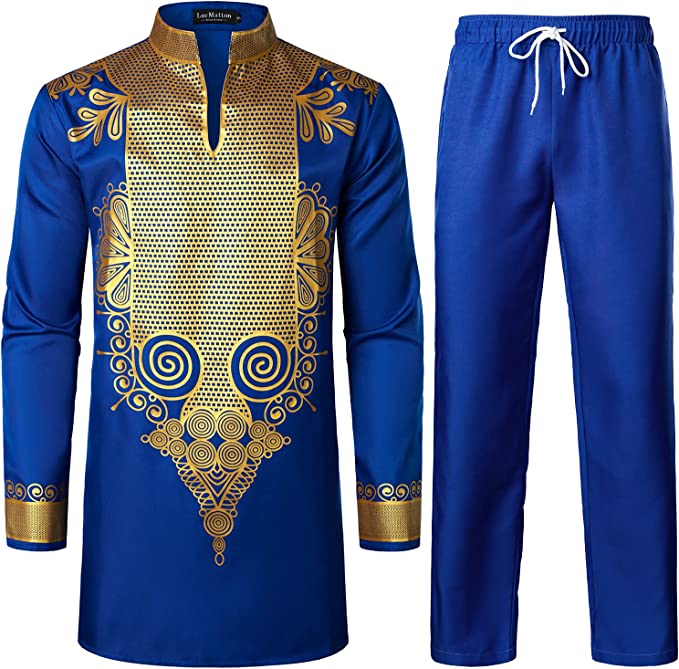 Click Here to Check Price and Availability
LucMatton Men's African Pattern Printed T-Shirt and Shorts Set Sports Mesh Tracksuit Dashiki Outfits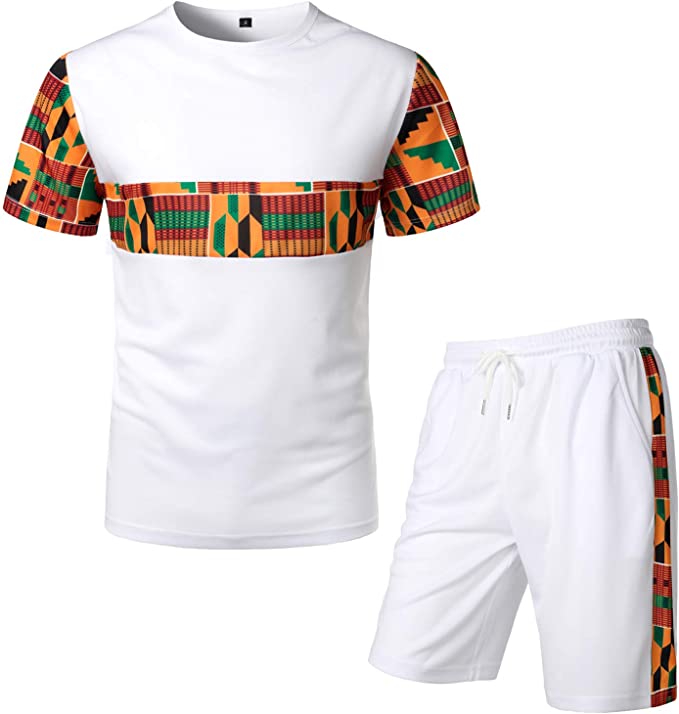 Click Here to Check Price and Availability
LucMatton Men's African 2 Piece Set Long Sleeve Button up Tops and Pants Traditional Dashiki Suit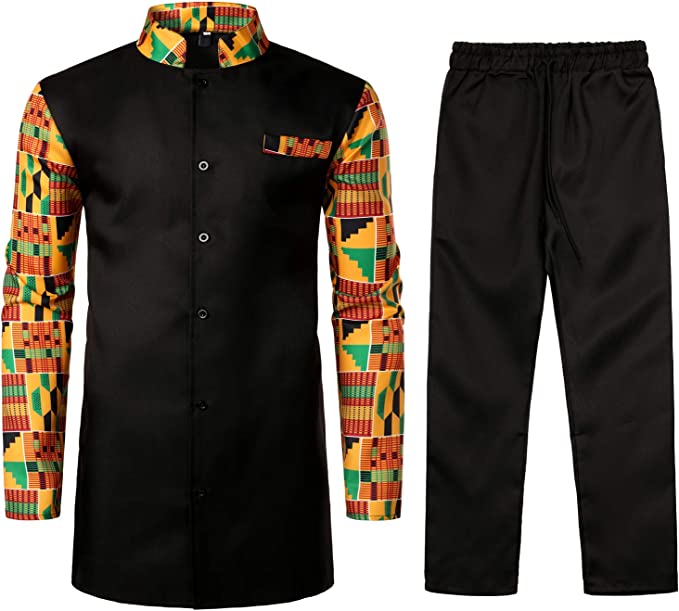 Click Here to Check Price and Availability
LucMatton Men's Summer 2 Piece Set Cotton Linen Ethnic Style Printed Outfits with Pockets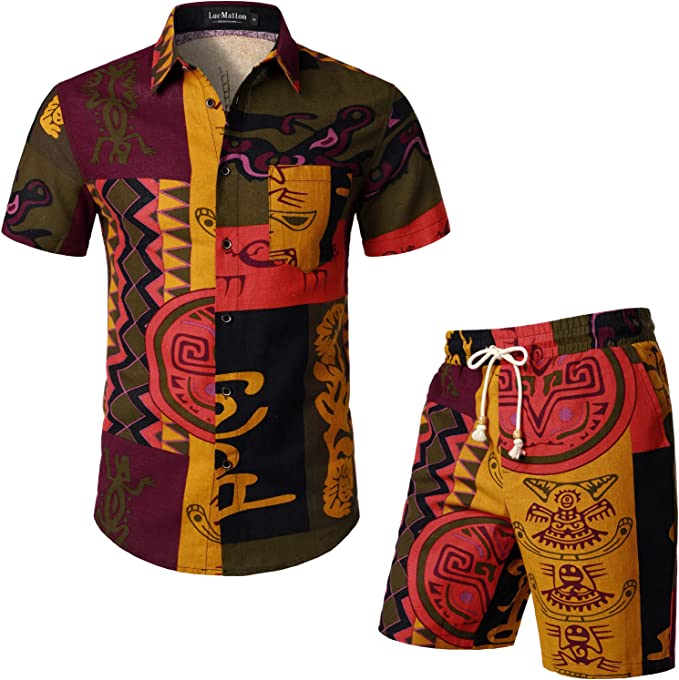 Click Here to Check Price and Availability
LucMatton Men's 2 Piece Outfits Hipster Printed Patchwork Tee Shirt and Shorts Set Sports Tracksuits