For many people of African American descent, shaving can be a dreadful experience because it often leads to the development of razor burn. Razor burns should not be ignored because they are your body's response to bacteria infection. Here are 7 steps which you can take to eliminate shaving rash fast.
7 Step Solution to Eliminating Your Razor Burn Fast
Step #1:
Cleanse Your Skin Before and After Shaving:
Many of us don't take the time to ready your skin before shaving. Shaving when your skin is not clean has harsh consequences; it breeds bacterial cultivation and skin inflammation.
Step #2:
Use All Natural Bacterial Cleanser:
This will open up your hair follicles and remove trapped dirt, bacteria, oil, and debris. We recommend all natural cleanser because chemical solutions such as Propylene Glycol and Parabens can irritate your skin. The best solution for razor burn contains anti-bacterial ingredients made from tea tree oil, aloe vera, and coconut. For best results try using tea tree soap before you shave to get rid of bacteria from your face and to prepare your skin for shaving.
Step #3:
Don't Shave Against Your Hair's Natural Growth Pattern:
Many people develop razor burns or shaving bumps because they shave against their hair's natural growth pattern. This causes your hair to grow back improperly, creating a clogged hair follicle inside.
Step #4:
Make Sure Your Shaver, Comb, Brush or Pick is Squeaky Clean:
You must use clean tools, not only when you shave, but also when you style and groom your hair. Wash you hair combs, picks, and brushes at least three times a week. Wipe them in alcohol. Do this also to your shaving utensils before and after shaving. (Do be careful because you may cut yourself while trying to clean the razor blade.)
Step #5:
Ask Your Barber To Use Clean Disinfected Tools:
Ask your barber before he cuts your hair to clean his or her clippers with Barbicide. Most stylists should be ok with your request. If they don't, I would recommend finding another establishment. Unfortunately, unsanitary barber clippers contribute to more than 75% of African American shaving rash problems
Step #6:
Use Shaving Razor Burn Rash Eliminating Lotion
We recommend using rash eliminating lotion. Apply the amount as directed so you don't give bacteria any time to grow. Depending on the severity of your bumps, it may take awhile for your bumps to become manageable. You must be consistent when using these products.
Products that contain alcohol, synthetic preservatives, and toxic agents are known to aggravate shaving rash. All natural hair bump products are best as your skin naturally begins to build immunity to bacteria that is causing you shaving rash. Some natural products that are effective at combating shaving rash include tea tree, white willow bark (natural form of salicylic acid), neem, and aloe vera. Make sure the product doesn't  contain just the extracts because extracts are not as effective compared to essential oils. Essential oils have the capability to eat away bacteria, regulate sebum production, and remove dead skin cells.
Step #7:
Stay Away From Shampoos That Contain Sulfate, Parabens and Alcohol
Unfortunately, many of your existing personal care products may aggravate your shaving rash, especially if they contain sulfate, parabens, and alcohol.
Want to Make Your Own Razor Burn Cream?
Make your own natural recipe.
Take 1 cup of brewed Chamomile Tea and mix it with ¼ cup of Lemon Juice and 1 teaspoon of baking soda.
Best Products For Razor Burn
Tend Skin The Skin Care Solution For Unsightly Razor Bumps, Ingrown Hair And Razor Burns, 8 Fl Oz Bottle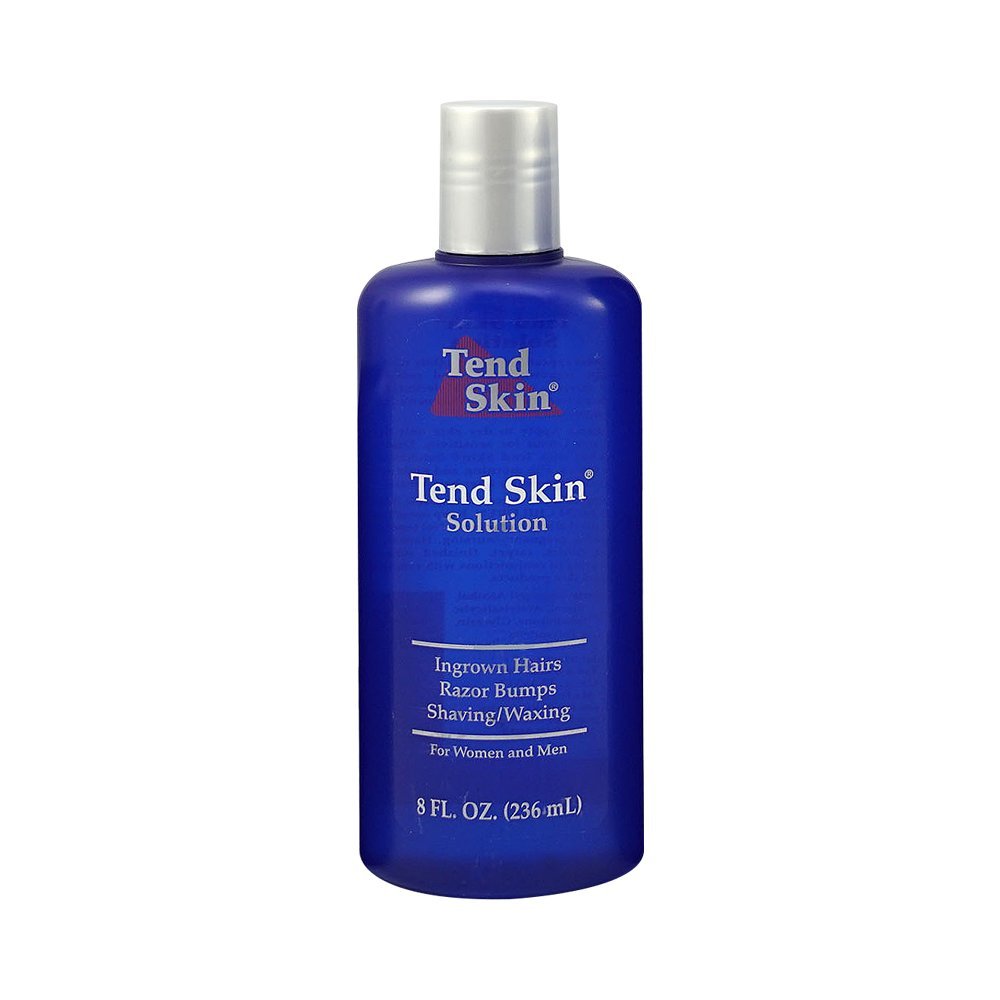 Made in USA, Ingrown Hair Solution: Applying a thin coat of Tend Skin Solution post shaving and waxing reduces the appearance of ingrown hair, razor bump also known as pfb

Post Shaving or Waxing, Women and Men: Use Tend Skin Solution as an aftershave or wax to reduce bumps on legs, underarms, bikini lines, chin, neck or face.

Hair Removal: Shave routine with razor blades or at home waxing kit or electrolysis and laser are all "surgical" procedures; tissue is torn or burned during any of this treatment. Apply thin coat of Tend Skin Solution after hair removal to reduce redness and bumps.

Facial Toner: Tend Skin Solution can also be used as an effective facial cleanser, also performs micro-peel and will make your skin glow as well as reduce appearance of wrinkles with regular use.

Cruelty Free: No Animal Testing, supports a non-profit named Angels in Distress.
Disclaimer: The information on this website is not intended or implied to be a substitute for professional medical advice, diagnosis or treatment. All content including text, graphics, images and information contained on or available through this website is for general information purposes only. This website makes no representation and assumes no responsibility for the accuracy of information on or available through this website, and such information is subject to change without notice. You are encouraged to confirm any information obtained from or through this website with other sources, and review all information regarding any medical condition or treatment with your physician.