African dashiki shirt is a must-have in any man's wardrobe. It can be dressed up or down, making it the perfect choice for any occasion. With its bold and vibrant print, a dashiki shirt is sure to turn heads no matter where you go. Plus, the comfortable fabric makes it perfect for all-day wear. Whether you're looking for a new addition to your work wardrobe or something special to wear on date night, a dashiki shirt is definitely worth considering.
Introducing the African Dashiki Shirt- Its History
The dashiki shirt is a traditional African garment that has been worn for centuries. The history of the African dashiki shirt is a long and proud one. Originating in West Africa, this colorful and vibrant garment has been worn by men and women for centuries. The dashiki is believed to have originated from the Senegalese word datcha, which refers to a loose-fitting gown worn by both men and women. Over time, the dashiki evolved into a more form-fitting shirt, typically featuring bold patterns and bright colors. Today, the dashiki remains an iconic symbol of African culture and heritage, popular among people of all ages around the world.
How African Dashiki Shirts Are Made
The African Dashiki shirt is a popular piece of clothing worn by both men and women all over the world. This colorful and unique shirt is typically made from cotton or silk, and features intricate designs that reflect the culture of Africa. While there are many different ways to make an African Dashiki shirt, the most common method involves sewing panels of fabric together to create a loose-fitting blouse or tunic. The finished product can be decorated with appliqués, embroidery, or other embellishments as desired.
Different Ways to Wear a Dashiki Shirt
There are many different ways to wear a dashiki shirt. Wear it as a dress, or you can wear it as a shirt. You can tie it around your waist or you can also wrap it around your head like a turban. Try mixing and matching the colors to create your own unique look. The possibilities are endless! A dashiki shirt is the perfect way to show off your personality and style.
How to Style a Dashiki Shirt With Other Pieces of Clothing
There are many ways to style a dashiki shirt. For example, you could pair it with black pants and dress shoes for a professional look. Or, you could wear it with jeans and sandals for a more casual look. Additionally, there are many other pieces of clothing that you can style with a dashiki shirt. For instance, you could add a scarf or belt for extra color and flair. Whatever your preference may be, there is sure to be a way to style your dashiki shirt in an appealing manner.
What Occasions Are Perfect For Wearing a Dashiki Shirt?
There are many occasions that are perfect for wearing a dashiki shirt. For example, you could wear one to a party or special event, to the beach, when going out on vacation, or even just running errands around town. A dashiki shirt is the perfect way to show your unique style and personality while also feeling comfortable and stylish at the same time. So if you're looking for something different to wear that will make you stand out from the crowd, be sure to give a dashiki shirt a try!
Which Celebrities Have Been Seen Sporting This Cool Print Trend?
Since the early 1970s, the dashiki shirt has been a popular choice of clothing for celebrities. Some of the most well-known stars who have worn this type of shirt include Michael Jackson, Prince, Beyonce and Chris Brown. While it's not exclusively limited to African Americans, this style is often seen as being particularly representative of that culture. In recent years, there has been a resurgence in popularity for these shirts among all types of people. Celebrities continue to be some of the biggest advocates for wearing them and helping to bring attention to this unique fashion statement.
Makkrom Mens African Dashiki T Shirt Tribal Floral Print
Click Here to Check Price and Availability
African Unisex Dashiki Shirt
Click Here to Check Price and Availability
Men's African Traditional Hidden Button Short Sleeve Shirt
Click Here to Check Price and Availability
COOFANDY Men's African Dashiki Print Shirt Long Sleeve Button Down
Click Here to Check Price and Availability
Black Traditional African Print Unisex Dashiki Shirt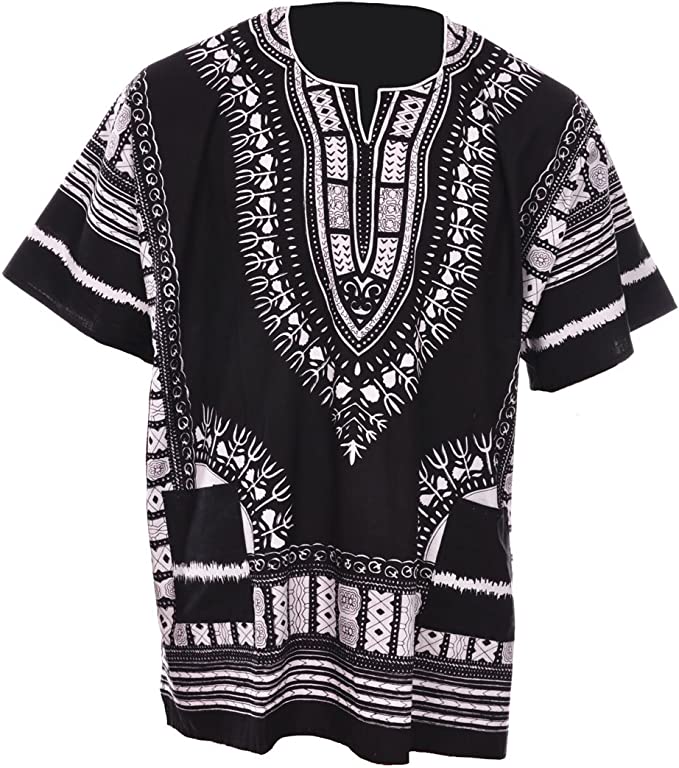 Click Here to Check Price and Availability
African Top Clothing Kaftan
Click Here to Check Price and Availability
Unisex Kente Dashiki
Click Here to Check Price and Availability
LucMatton Men's African Printed Patchwork Design Short Sleeve Button up Shirt
Click Here to Check Price and Availability
Mens Hipster Hip-Hop Premium Tees – Stylish Longline Side Zipper Fashion T-Shirt